EROS-A1, Israel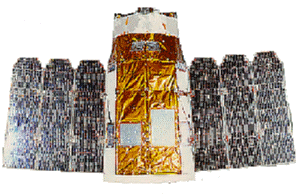 Launched on 5 December 2000, EROS-A1 is the first of a planned series of commercial high resolution remote sensing satellites from ImageSat International, an international company formed in 1997. The three main shareholders of ImagSat International are, Israel Aircraft Industries, Ltd. (Israel), Electro Optics Industries, Ltd. (Israel), and Core Software Technology (USA). EROS-A1 collects black and white (panchromatic) images at 1.8 m resolution. The nominal swath width is 12.5 km. The light weight (260 kg) and agile design of the satellite allows it to turn up to 45 degrees in any direction as it orbits, providing the capability to acquire images of many different areas during the same pass. The satellite's agile ability also allows for stereo imaging during the same orbit. The follow-on satellite, EROS-B will have improved resolution of 0.82 m and swath width of 16 km.
EROS-A1 Orbit
| | |
| --- | --- |
| Type | Sun-Synchronous |
| Descending Node Crossing Time | 9:45 am local solar time |
| Altitude | 475 - 491 km |
| Inclination | 97.3 deg |
| Period | 94 min |
Sensor Characteristics
Viewing Angle
Agile spacecraft
along track and across track pointing
(up to 45o from nadir)
Sensor Type
CCD
Ground Sampling Distance
1.8 m
Scanning
Asynchronous (up to 750 lines/second)
Radiometric Digitization
11 bits
Spectral Band
Panchromatic, 0.5 - 0.9 µm
Pixels-in-line
7800
Image Modes
Basic Scene: 12.6 km x 12.6 km
Monostrips, up to 30o from nadir: Up to 12.6 km x 120 km
Monostrips, up to 43o from nadir: Up to 12.6 km x 217 km
Image Mosaic: 25.2 km x 25.2 km
Stereo Monostrips: Up to 12.6 km x 44 km
Stereo Scenes: 12.6 km x 12.6 km
---
Link to: ImageSat International Web Page (http://www.imagesatintl.com).
---

Go to Main Index